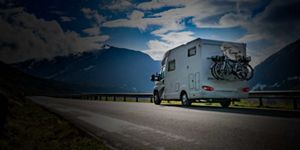 Product spotlight: RVLife - Trailers
How to have a (mostly) screen-free RV vacation this summer
RV trips are the perfect way to unplug from the world. Good-bye, phones, tablets and laptops. Hello, open road, fresh air and new experiences!
Here are four things you can share with your customers as they prepare to disconnect from technology and enjoy every moment of an RV vacation.
1. Plan your route
It's one thing to stay off social media and news scrolling while you're in the RV, it's another thing to give up important tools like maps and travel information you need to check in at parks.
You can avoid the panic of disconnection by planning your route in advance and downloading maps and directions so they're available on your phone even when you don't have Wifi. Same goes for all those email confirmations for park reservations or other travel details. Before you leave, put everything into an easily accessible folder where you can quickly find what you need, when you need it.
2. Bring lots of screen-free entertainment
Toys and games aren't just for kids. No matter how old you and your travelling companions are, you'll appreciate a good supply of diversions like board games, books, cards, art supplies, balls, badminton rackets and other sporting goods. Check out the facilities at the places where you'll be staying so you can bring some gear to take advantage of all the amenities. Could you get some use out of a couple of tennis rackets, golf clubs, frisbees, or baseball gloves?
You may also choose to "cheat" by downloading a few movies or TV episodes for those rainy days when all you want to do is curl up inside the RV.
3. Check in and share your itinerary with friends, family
If you're going to wander off into the wilderness without Wifi, it's helpful to share your plans with some key people in your life – especially if you expect phone service to be spotty.
Have some fun with the task by putting together a map with all your planned stops. Don't forget to include addresses and phone numbers of campgrounds in case there's an emergency and someone from home needs to reach you. You might even list some of the sights you hope to see along the way. This is a great way to enjoy your vacation before it's even begun!
4. Know where to find Wifi when you need it
Unless you're committed to truly roughing it, you will probably thank yourself if you pre-identify some places where you can get reliable Wifi. Giving yourself permission to check in on your email and the news every few days might help you combat FOMO (fear of missing out).
Most campgrounds have Wifi, but because of their (possibly) remote locations and the number of other campers using it, you can expect the internet to be slow. This may actually be the deterrent you need to simply check in, toss off a few texts and get back to having fun!
RV Life | Motorhome, towed trailer, stationary trailer
Motorhomes covered
Towed trailers covered
Truck camper
Tent trailer
Travel trailer
Toy hauler with living quarters
Fifth wheel
Horse/stock trailer with living quarters (max. 4 animals)
Stationary trailers covered
Park model
Permanently parked trailer
Just some of what's included in every policy
Contents the trailer usually contains
Debris removal
Extended warranty on appliances
Lock replacement
Pet injury
Frozen food protection
Upgrade to Elite Emergency Roadside Services*
Springtime means mud – and a higher risk of getting stuck in it. ERS Elite is available as an endorsement with all towed trailer policies. It's less expensive than other auto club memberships and has more benefits, including:
Towing up to 250km limit and winching services provided by qualified operators – on any vehicle, large or small loads with 1 time "super-tow" up to 500km towing distance limits (anywhere in Canada or the U.S.)
Battery boost, lock-out service, fuel delivery (up to 15 litres of gas included), flat tire and mobile tire repair services
3 trip planning calls per policy term
Unlimited calls on worldwide travel and emergency medical advice, trip interruption, concierge service and pet assistance
* In Quebec ERS Elite is included with Globetrotter Plus and available as an option with Globetrotter Flex.
Discounts
Bundling Aviva home/auto policy with trailer
Looking for fun RV-related content to share with your customers on social media—and beyond? Feel free to use these articles:

Digital road trip: RVing in Alberta
Is an RV vacation right for your family?
Learn more
Visit LifestyleQuote (VRTarif for Quebec) to quote, bind and request changes and endorsements for this product.
Get more details about this product in the Lifestyle Resource Centre on Aviva Partner.
Aviva and the Aviva logo are trademarks used under licence by the licensor. RVLife products are underwritten by Elite Insurance Company. The content in this article is for information purposes only and is not intended to be relied upon as professional or expert advice. For specific information about a product, or exact terms, conditions, coverage definitions, exclusions and limitations, please refer to the customer's insurance policy wording or the latest underwriting manual on avivapartner.ca. Product availability varies by province.