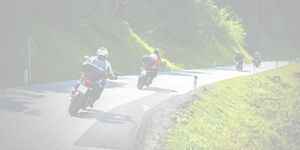 Product spotlight: Motorcycle | Cruiser, Touring, Sport touring, Standard, Sport, Scooter
As motorcycle riders gear up for a new season of cruising, the Ontario Provincial Police ("OPP") has released some sobering statistics that serve as a reminder to take caution on the road. 
Between 2012 and 2021, OPP officers investigated 326 motorcycle crashes in which 342 people died. According to OPP data:

Motorcyclists were at fault in more than 60% of the incidents
Upwards of 120 were considered single-vehicle events (Aviva data shows that single-vehicle accidents are the most common cause of loss in motorcycle incidents)
At least one other vehicle was involved in the other 222 deaths (Aviva data shows the most common cause of collision between a motorcycle and another road vehicle is when the other vehicle does not see the motorcycle at an intersection and turns into their path)
"Excessive speed, failing to yield right of way and driver inattention remain contributing factors in OPP-investigated motorcycle fatalities every year," OPP officials said. 
While statistics like these may vary across the country, it's important for all motorcyclists to stay alert and be aware of the risks of riding. 
Consider checking in with your motorcycle customers to discuss how they're taking precautions on the road – and whether they have the right coverage for their needs.
Aviva's RideLife motorcycle coverage 
Offers standalone policies with a variety of additional coverage options. Available for a wide range of motorcycles providing coverage that fits the unique needs of experienced riders.
Optional coverages*
Agreed Value and Waiver of depreciation
Riding gear endorsement will cover all items at replacement cost and limits can be increased. Base coverages without this endorsement varies by Province. In Québec the first $1000 is covered by the SAAQ with higher limits available for purchase.
Satellite (SurPlus in Québec) roadside assistance: 24/7 across Canada and the U.S.
Loss of use coverage: Covers the cost for a replacement motorcycle, rental car, taxi, or public transit while the bike is being repaired.
Other

Trailer coverage
Vacation expenses
Increased Liability limits (excluding British Columbia)
Touring Package: Increased limits for Loss of Use, Living Expenses, and Repatriation of Motorcycle (British Columbia only)
Motorcycle Accessories and Equipment endorsement to cover permitted modifications up to 50% of the bike's value
Discounts include*
Advanced rider training
Hybrid/electric motorcycle
Multi motorcycle
Anti-lock braking system
Motorcycle and home
Motorcycle and auto – available in most provinces and will be introduced in Ontario in 2023
Vintage motorcycle
*Please review manuals for a full list of applicable discounts available in each Province.
Learn more
Visit LifestyleQuote (VL Tarif for Quebec) to quote, bind and request changes and endorsements for this product.
Get more details about this product in the Lifestyle Resource Centre on Aviva Partner.
Aviva and the Aviva logo are trademarks used under license from the licensor. Insurance products are underwritten by insurers in the Aviva Canada group of insurance companies, which are subsidiaries of Aviva Canada Inc. The content in this article is for information purposes only and is not intended to be relied upon as professional or expert advice. For specific information about a product, or exact terms, conditions, coverage definitions, exclusions and limitations, please refer to the customer's insurance policy wording or the latest underwriting manual on avivapartner.ca. Product availability varies by province.