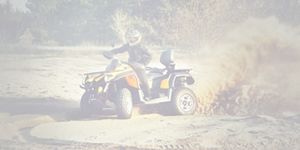 Product spotlight: ATVs & snowmobiles
Off-roading remains a popular pastime in Canada. According to the International Snowmobile Manufacturers Association, nearly 51,000 snowmobiles have been sold in Canada in 2022 so far and more than 601,000 snowmobiles are registered in the country.
While the stats on ATVs are less accurate (since these vehicles do not need to be plated in all Provinces), Wayne Daub, general manager of the Canadian Quad Council, estimates that there are about 1 to 1.5 million ATVs in Canada.
That adds up to a lot of off-roading activity from coast to coast to coast. Since the fall weather is especially appealing for ATV operators – and snowmobile season isn't far off, it's a perfect time to share some safety tips adapted from the Canadian Quad Council:


Wear the right gear. Wear a compliant helmet. It's also a good idea to wear goggles, a long-sleeved shirt, long pants, over-the-ankle boots and riding gloves to protect yourself from the elements.
Turn your headlights on. It's important to ensure you can see the trail ahead—and that others can see the rear of your vehicle. Off-road, wooded areas are often significantly less bright than wide open spaces.
Only carry the number of passengers the off-road vehicle is meant to accommodate. Extra weight and awkward positioning could put you and any passengers in danger.
Choose the right off-road vehicle. Not all vehicles are meant for all people. Consider factors like age, weight and riding ability before deciding the right fit.
Travel in groups and share your planned route. Riding alone could mean you're stranded if you encounter bad trail conditions or weather.
Follow the same rules you would when driving an automobile. Avoid speeding, distracted driving, drinking and driving and other behaviours that could lead to unsafe conditions.
It's also a good time to review our RideLife coverages and have important conversations with your customers about what's appropriate for them.


Aviva's RideLife insurance program
RideLife covers off-road vehicles, such as ATVs and snowmobiles, with a standard automobile policy with physical damage options.
Coverage includes
Liability
Accident Benefits
Direct Compensation Property Damage
Uninsured Motorist
Seasonal Use
Optional coverages
Use of recreational vehicles by unlicensed operators: allows the off-road vehicle to be used on private property by unlicensed operators
Collision: covers loss caused by hitting another vehicle or object or by an uninsured or unidentified driver, such as an accident on trails or a hit and run after a covered claim
Comprehensive: Covers losses from perils including theft, vandalism and falling objects
Family Protection endorsement: extends third party liability coverage for vehicle accidents where the other motorist doesn't have enough coverage to pay your customer's injury claim
Learn more
Visit LifestyleQuote (VL Tarif for Quebec) to quote, bind and request changes and endorsements for this product.
Get more details about this product in the Lifestyle Resource Centre on AvivaPartner.
Aviva and the Aviva logo are trademarks used under license from the licensor. Insurance products are underwritten by insurers in the Aviva Canada group of insurance companies, which are subsidiaries of Aviva Canada Inc. The content in this article is for information purposes only and is not intended to be relied upon as professional or expert advice. For specific information about a product, or exact terms, conditions, coverage definitions, exclusions and limitations, please refer to the customer's insurance policy wording or the latest underwriting manual on avivapartner.ca. Product availability varies by province.