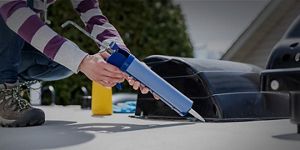 Checklist: Prepare your RV for a new season
Are you ready to get back into relaxing RVing? We've got tips to help you open safely – and protect your catalytic converter from theft this season.
It's been a long winter! RV enthusiasts across the country have been looking forward to dusting off their recreational vehicle or trailer and enjoying the open air.
We've spoken to the expert team in Lifestyle claims who specialize in RVs, and put together a handy checklist to help ensure your RV is fresh, safe and ready for this season's adventures. And read on to learn about a rash of catalytic converter thefts and what you can do to protect yours.

Checklist for opening your RV

Throw open all doors and windows to fill the space with fresh air while you inspect and start up your RV.
Open all interior doors, drawers and compartments to check for mice or other pests. Clean and disinfect, as necessary. (And make a note to include pest control as part of your shutdown process in the fall.)
Test the smoke alarm and carbon monoxide detector.
Lubricate slides and windows with a product designed to protect against corrosion and extend the life of your RV.
Check the function of the:
                    o  Propane tank
                    o   Furnace
                    o   Refrigerator
                    o   Air conditioner
                    o   Electrical system
                    o   Wastewater system
Roll out the awning and sweep off leaves or other debris that may have collected over the winter.
Add extra grease to the 5th wheel to make sure it's well lubricated.
Flush out the pipes with air and then run fresh water through to ensure you have safe, potable water.
Wash all bedding, towels and curtains. Take any cushions and decorative pillows outside to help remove any musty odours.
Vacuum and wash carpets and floors.
Wash blinds and clean windows.
Make sure the RV is stocked with supplies you'll use all season, such as:
                    o   First aid kit
                    o   Flashlights
                    o   Fire extinguisher
                    o   Kitchen and bathroom essentials
Protect your catalytic converter from theft 

Brokers are reporting a rise in thefts of catalytic converters on RVs, particularly in Quebec. These exhaust emission control devices can be found at the back of your RV, with the exhaust system. According to Aviva's Lifestyle claims team, they're a popular target for thieves because they contain rare metals like platinum, palladium or rhodium, which can be resold for a tidy profit at the scrapyard.
Although all fuel-powered vehicles have catalytic converters, RVs are especially attractive because it's easier to fit under them to remove the device.

You can help keep your catalytic converter safe by parking your RV in a well-lit and secure storage area whenever possible. Although there is no official anti-theft apparatus, Aviva reports that some people are having a mechanic weld a cage around their catalytic converters or engrave their catalytic converter as a deterrent for potential theft.
The content in this article is for information purposes only and is not intended to be relied upon as professional or expert advice. Aviva and the Aviva logo are trademarks of Aviva plc. and are used under licence by Aviva Canada Inc. and its subsidiary companies.