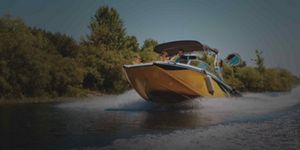 Product spotlight: Boat and Inside information from Aviva's Marine Assessment Unit
From the most common boat claim to one of the most expensive oversights a boater can make, this is news brokers can use.
Behind every Aviva claims adjuster working on a boating claim is the Marine Assessment Unit, a three-person team of experts who know the boating industry inside and out.
We asked them to share some of the insider insights they think brokers should know about, including:
The most common boat claims
A coverage most brokers (and their customers) are surprised and delighted to learn about
The boat endorsement brokers don't want to miss going over with their customers

Most common boat claim: Damage from improper winterization

Every spring, the unit is called on to review a number of cracked engine claims.
"In a lot of cases it is easy to identify winterizing damage from other type of losses. It typically happens due to the engine not being winterized correctly or at all. We often receive claims from vendors for this type of damage usually because they are not aware that this type of damage is not covered under the policy." said Aviva Marine Assessment Specialist Don Sendall.
If you have a customer who's a new boater, it's helpful to educate them on the importance of winterizing their boat.
"After labour day boaters should keep themselves very aware of temperature drops and have their boats scheduled at marine service shop as soon as possible. Waiting last minute to get that last run to view the late fall colours in October isn't always the best idea if it means the chance of a costly engine repair," said Sendall.   
"Policies are tight when it comes to excluding freezing losses. Customers need to know that proper maintenance of their boat will translate to a better overall experience and no unfortunate losses," said Shawn McKone, Senior Manager, Technical Lead, Lifestyle Department.

Second runner-up: Expired engines
Another, "Not this again…" claim the unit sees frequently is for engines that suddenly sputter out.
"Some of [these claims] are covered losses but nine times out of ten they're not. It's simply an old motor in which something internally has let go and that's just the cost of owning something mechanical," said Sendall.
"After 15 to 20 years of age, marine engines are expected to break down. Unfortunately, that failure sometimes will be catastrophic. It is not a guarantee major engine issues won't happen but having a boat on a yearly maintenance program with a qualified marine technician is the best defence available to an insured. "

Did you know? Boaters' biggest critter complaint is probably covered in their policy
Spring has finally sprung and you're eager to get your boat out on the water. Imagine the horror of peeling back the shrink wrap on your vessel only to find a family of raccoons moved in over the winter and left their mark.
"We see this every year. Boats are a nice place to nest because it's an enclosed space and the shrink wrap will retain some heat. The biggest headaches after an infestation are replacing chewed up upholstery and cleaning up after them. They leave quite a mess," said Sendall.
Customers and even brokers are often surprised to learn that raccoon damage might be covered under their boating policy. "There are lots of exclusions in policies to rodents and animals so it might not be what you'd expect. Aviva's NauticLife boating policies include raccoon coverage."

Biggest caution to brokers: Make sure customers know about navigational limits
McKone says one of the most important questions you can ask a boating customer is where they intend to operate their watercraft. This will help you determine the right extension of the navigational endorsement for them.
If they travel beyond the navigational limits set out in their policy, they could find themselves uninsured.
It doesn't happen often, but when it does it's devastating. The snowbird who takes their boat down south often doesn't consider that their Canadian coverage doesn't automatically extend to where they need it in U.S. waters and beyond.
"If there's an oversight, it could leave a vessel uninsured without them even being aware of it. With the potential for such a big loss, it's critical to avoid this from happening if we can," said McKone.

Coverage you can count on
Aviva's NauticLife boat insurance offers protection for all kinds of pleasure craft, from fishing boats to yachts. Here are some of the available coverage options:

Standard coverage
Sail
Jet
Sport
Fishing
Cruiser and cuddy
Houseboats
Pontoon and deck
Runabout
Personal watercraft

Included in all policies **
Agreed value/replacement cost for watercraft up to 15 years
Actual cash value for watercraft 15 years of age and older
Fire, explosion, theft and vandalism
Lightning, hail and windstorm damage
Impact or collision
Vermin damage

Coverages **
Medical/death/funeral benefit
Newly acquired watercraft
Marine assistance Program
Emergency towing and loss of use
Navigation equipment
Pollution and wreck removal
Personal effects including sporting equipment
Search and rescue and fire department charges
Operating other boat

Optional coverage enhancements **

Guaranteed replacement coverage – an upgrade from agreed value/replacement for new boats with coverage up to three years
Incidental use: additional liability coverage for occasional use of a watercraft to entertain clients or for charity or volunteer work
Increased loss of use: increase the policy's coverage for a temporary replacement in the event of an insured loss for another boat, rental car, taxi, or public transit while the boat is being repaired after a covered claim
Navigation Extension Coverages – Navigational extensions can be purchased to provide coverage for a broader area of operation, for example travelling to the Bahamas.  
 Other

Dinghy and auxiliary engineers
Downriggers
Claims forgiveness
Deductible waiver

Discounts (percentage varies by Province)
Watercraft and car/home
Dry dock
Claims free
Training

Learn more

Visit Lifestyle Quote (VL Tarif for Quebec) to quote, bind and request changes and endorsements for this product.
Get more details about this product in the Lifestyle Resource Centre on AvivaPartner.
NauticLife products are underwritten by Elite Insurance Company. The content in this article is for information purposes only and is not intended to be relied upon as professional or expert advice. Aviva and the Aviva logo are trademarks of Aviva plc. and are used under licence by Aviva Canada Inc. and its subsidiary companies.** For specific information about a product, or exact terms, conditions, coverage definitions, exclusions and limitations, please refer to the customer's insurance policy wording or the latest underwriting manual on avivapartner.ca.