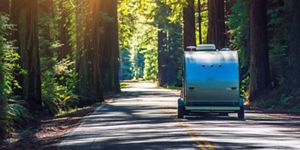 Recreational Trailers 2019
Leisure seekers are starting their engines! Find out what you need to know to enhance the season of fun for recreational trailer enthusiasts.
As the country's largest insurer of recreational vehicles, Aviva has been protecting Canadian fun for more than 65 years. Our trailer insurance policy includes coverage not found in regular home or auto insurance policies, including roadside assistance, guaranteed replacement cost coverage and optional RV-sharing insurance.
Upgrade to Elite Emergency Roadside Assistance
Springtime means mud – and a higher risk of getting stuck in it. ERS Elite is available as an endorsement with all recreational trailer policies. It's less expensive than other auto club memberships and has more benefits, including:
Towing and winching services provided by qualified operators – any vehicle, large or small loads with 500km towing distance limits (anywhere in Canada or the U.S.)
Battery boost, lock-out, fuel delivery (up to 15 litres of gas included), flat tire and mobile tire repair services
Trip interruption protection of up to $500 for additional vacation expenses (hotels, rental vehicles, etc.) if the rig requires emergency repairs
Recreational trailers covered

Truck camper
Tent trailer
Travel trailer
Toy hauler with living quarters
Fifth wheel
Horse/stock trailer with living quarters (max. 4 animals)
Included in all policies*
Contents the trailer usually contains
Detached structures, such as sheds and decks
Overland water (Only available in ON, AB, and BC)
Sewer back-up (Automatically included in ON, AB, and BC; optional coverage in all other provinces)
Debris removal
Extended warranty on appliances
Lock replacement
$5,000 golf cart physical damage
Frozen food replacement
Interested party rate protection
Pet injury
Disappearing Deductible – pay no deductible if you're claims-free for five years in a row
ERSBasic (except park models) – limited emergency roadside assistance when travelling with a trailer or towing vehicle attached
   o   Towing
   o   Battery boost
   o   Flat tire service fuel delivery


Optional coverage enhancements*
Guaranteed Replacement Cost
Upgrade to ERSElite
o Up to 500 km mechanical breakdown towing for trailer and towing vehicle
o Trip planning
o Travel and travel medical assistance
o Concierge service
o Pet assistance
o Trip interruption
Outdoorsy RV-sharing network access
Full timers package (includes optional comprehensive Personal Liability coverage)
Premises Liability
Discounts

Bundling home/auto/trailer
Being a retiree
Maintaining a clean driving experience (no convictions and staying claims-free)
Parking in secure and supervised trailer parks
Having or installing safety devices, such as a burglar alarm
*Availability and pricing vary by province. Terms and conditions apply.
Learn more
Visit LeisureQuote
You can obtain accurate quotes and request changes and endorsements for this product through LeisureQuote, which you can access directly from AvivaPartner or from the L&L Resource Centre.
Get more details about this product in the L&L Resource Centre.