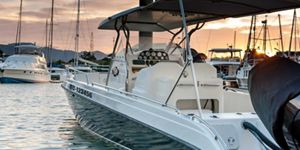 Licensing or registration of a pleasure craft: what's the difference?
In order to benefit from your pleasure craft, you must either have a licence or register it. Offered free of charge, the licence has a unique number to identify the boat. In the event of an emergency, search and rescue personnel will have access to this information.
Do you need a licence?
You must request a licence if you use your boat mainly in Canada, and:

it is powered by one or more motors, less than 10 horsepower (7.5 kW,), or if
it is purchased less than 90 days ago
But even if you aren't required to have a licence, it may be useful to ask for one, for your safety. You can do this in two ways:
By mail
Download and complete the form, and include the documents you will be asked to provide from this kit.
Then just mail it all to:
Pleasure Craft Licensing Centre
P.O. Box 2006 
Fredericton, New Brunswick E3B 5G4
Online
By applying online, you will receive an acknowledgement number, which you can use until you receive your official licence.
To keep in mind
Don't forget to have your licence with you on board at all times. You must also write this number on each side of the bow, in characters at least 7.5 centimeters long and in plain view.
Having a licence will not only give you peace of mind, but could also save you a $250 fine. 
Don't need a licence? You must register your boat.
If you don't have a boat licence, registration has many advantages:
it is proof of ownership, especially when you are travelling outside Canada

it gives you the right to fly the Canadian flag
it gives your boat a unique name and official number
it allows the boat to be used as security for a maritime mortgage
Sources : Transport Canada et Nautiguide 2019
The content in this article is for information purposes only and is not intended to be relied upon as professional or expert advice. Aviva and the Aviva logo are trademarks of Aviva plc. and are used under licence by Aviva Canada Inc. and its subsidiary companies. Text