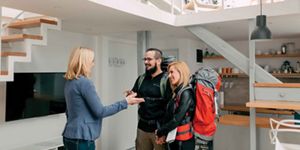 Home-sharing insurance: best practices for hosts and guests
Home-sharing platforms, such as AirBnB, can be a godsend for hosts and travellers alike. Whether you're subletting a room in your home or renting a condo for your next holiday, it's important to understand the implications and limitations of insurance in case of injury or property damage.
As an Airbnb host, you are automatically enrolled into two programs - Airbnb's Host Guarantee and Airbnb Host Protection Insurance. The former offers up to $1 million USD of property damage protection, in case you are unable to negotiate an agreement with a guest directly. However, it's important to note that the Host Guarantee is not an insurance policy.
The Airbnb Host Protection Insurance is a policy to cover hosts in case of claims made against them for bodily injury or damage to guest property. This policy also has a limit of $1 million USD and a number of exclusions. And although coverage is available, it is not guaranteed, leaving you potentially under-insured in case of a costly claim.
As a rule, basic homeowner policies do not cover claims relating to the operation of a commercial enterprise. However, as the home-sharing industry has evolved, so have the insurance products available to meet consumers' needs. Aviva offers Home-sharing insurance with coverage in case of loss or damage to buildings and personal property, intentional acts, criminal acts, or failure to act by a guest, loss of rental income and more.
As a guest, you may be the beneficiary of the Airbnb Host Protection Insurance but it's always in your best interests to carry your own policy. Since their policy does not cover loss of earnings if an accident leaves you unable to work, you may quickly find yourself in a precarious financial situation.
Travel insurance coverage varies, so make sure you confirm that your policy includes claims relating to accommodations booked through companies like HomeAway and Airbnb. If in doubt, speak to your broker. As always, in case of an incident, document everything thoroughly and alert your insurer as soon as you are able.
Sources:
Canadian Underwriter – How Airbnb is changing the home insurance industry
McLeigh Orlando Lawyers – Injured at an Airbnb: what to do when your trip goes south
Howie, Sacks & Henry Lawyers – It's not personal, it's business: short-term rentals and personal injury
The content in this article is for information purposes only and is not intended to be relied upon as professional or expert advice. Aviva and the Aviva logo are trademarks of Aviva plc. and are used under licence by Aviva Canada Inc. and its subsidiary companies.