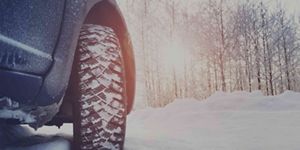 New date for Quebec winter tire requirement
Three years after becoming mandatory in Quebec in 2008, the use of winter tires has reduced winter road collisions in the province by 5%, and deaths and serious injuries in the province by 3%. Following a recent change in regulation, the date by which your vehicle must be equipped with winter tires in 2019 has moved up from December 15 to December 1. The consequence of non-compliance ranges from fines between $200-$300 to potential impact on your insurance coverage if you have an accident while driving an improperly equipped vehicle.
However, winter tires may not be a practical choice for you. For example, like many Quebecois you may be heading to Florida to escape the cold. Or, you may be taking a vehicle out of storage during the period when the requirement is in effect, from December 1 to March 15. In this case, you're eligible for a 7 day Winter Tire Exemption Certificate from Société de l'assurance automobile du Québec (SAAQ) and can request it up to 4 times for the same vehicle during each annual period. If you're traveling and know your return day, you can even obtain the certificates for your departure and return at the same time. 
If you plan on doing any winter driving, always be prepared for winter conditions.
Carry an emergency kit equipped with flares, flashlights, hi-vis clothing, an ice scraper and brush, food, water, blankets, extra medication, a shovel and a portable power supply.

Clear all snow and ice from the roof, windows and mirrors of your car before you set off. 

Practise defensive driving by keeping your distance and adjusting your speed for road and weather conditions. 

Leave a detailed itinerary and schedule check in calls with friends and family.
Sources:
Société de l'assurance automobile du Québec - Obtaining a winter tire exemption certificate
CAA Quebec - The winter-tire exemption: practical in many cases!
Point-s.ca - Blog: Installation of winter tires advanced to December 1, 2019
The content in this article is for information purposes only and is not intended to be relied upon as professional or expert advice. Aviva and the Aviva logo are trademarks of Aviva plc. and are used under licence by Aviva Canada Inc. and its subsidiary companies.