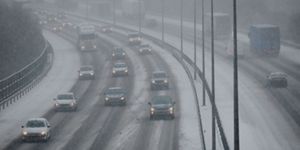 Staying Safe on Winter Roads
As winter approaches, the days get shorter and the roads get more slippery. Some parts of Canada have seen snowstorms as early as September and it's a known fact that accidents rates go up in winter months. Keep these tips in mind to stay safe on the roads this winter.
Ensure your car is winter road ready. This includes properly rated snow tires, an ice scraper and brush, a functioning heating/cooling system, a full tank of gas and a spare tire. Clear all ice and snow from your windows, mirrors and roof before traveling so it doesn't pose a major threat to other motorists on the road.


Drive with caution - don't speed up to make that light, don't follow too closely and give yourself plenty of time and space to react to unforeseen circumstances. Remember, it's not just your driving that matters. Others on the road may be less experienced for the conditions so it's best to be patient and vigilant.

Prepare a winter emergency kit. In addition to the

basic emergency kit

you should have in your vehicle at all times, stock extra warm clothing, blankets, flares, cones and non-perishable foods such as energy bars. Emergency services may not be as quick to respond, so it's good to be prepared for the possibility of a long wait.

In case of a break down during a storm, move off the road as far as is safely possible. With visibility greatly reduced, it's essential to give other drivers plenty of passing room. Stay in your car if it's safe to do so, and wear a hi-vis vest if you exit your vehicle.

Last but not least, always travel with a fully charged cell phone and a backup power source. For any long journeys or when you may be out of cell phone range, make sure to leave a trip plan with a friend or a family member.
Sources: 
Transport Canada: https://www.tc.gc.ca/eng/motorvehiclesafety/safevehicles-safetyfeatures-winterdriving-index-693.htm
Public Safety Canada: https://www.getprepared.gc.ca/cnt/rsrcs/sfttps/tp201002-en.aspx
The content in this article is for information purposes only and is not intended to be relied upon as professional or expert advice.