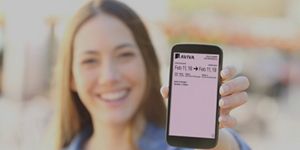 Digital pink slips
Terms and Conditions
Important:
You are receiving this message because you have consented to receive the digital version of your pink slip. If you are not the intended recipient of this message, please do not open the provided links and delete this message immediately.
These links must be activated right away – they expire after 24 hours. If you need to reactivate them, please contact your insurance broker to have the links reissued.
This digital pink slip doesn't replace the paper pink slip sent to you via mail.
Digital pink slips are not an approved proof of insurance under applicable legislation and regulations at this time. A paper pink slip is currently the only document that law enforcement across Canada will accept as proof of insurance coverage.
Although the provinces of Nova Scotia and Quebec have made some progress to accept an electronic pink slip form, you must still carry a paper copy of your pink slip in your vehicle at all times.
Using a digital pink slip is your choice. If you choose to pass your phone to a third party, such as a police officer, you assume any and all risks of damage to the device when handed over.
When you renew or change your auto insurance policy with Aviva, you'll receive a new version of your digital pink slip via email or text message. It's your responsibility to delete the old version of your digital pink slip from your mobile device and replace it with the new version.
It's your responsibility to ensure your insurance broker has your most up-to-date email address and phone number on file.
If there are any inconsistencies between your digital pink slip and your paper pink slip, the information on the paper pink slip prevails.
Sharing your digital pink slip is your choice. If you choose to share your digital pink slip with anyone besides the other drivers on your insurance policy, you assume any and all risks.
For instructions on how to use a digital pink slip on an Apple device, including lock screen functionality, click here. For all other devices, please refer to the individual instructions on your wallet or passes application.