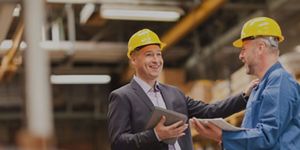 Approved vendors and contractors program
Helping you manage risk and reduce loss
Aviva provides more than just insurance – you also have access to trusted and reliable vendors and contractors to help you manage risk and reduce loss on your property or place of business. Feel secure knowing you'll get prevention solutions you can count on.
If you need help finding the right solution, email us at arms.canada@aviva.com.
Approved vendors and contractors
Aviva's approved vendors and contractors program gives you access to our partners who provide expertise, tools and resources to help you avoid costly repairs and potential losses. From water leak prevention to driver training and more, we have the resources you need.
As an Aviva customer, you can get access to these products and services at preferred rates. Contact your broker or the individual companies directly for more information about current offers and discounts.
Insurance brokers, the right choice for you
Get expertise for your insurance needs from coverages, pricing options, claims support and discounts.