OneEleven and Aviva Canada kick off #InsurTechCanada Events
March 22, 2017 (Toronto, ON) – The "Future of Mobility" was in the limelight for the #InsurTechCanada kickoff event attended by thought leaders, startups, venture capitals, auto experts and tech enthusiasts alike. #InsurTechCanada is a five-event series presented by OneEleven and Aviva Canada. Hosted in Aviva Canada's downtown Digital Garage, each event in the series focuses on the disruption of a specific industry and the impact technology will have on the economy and society. 
"We're thrilled to be partnering with OneEleven on this InsurTech Canada series of events," says Ben Isotta-Riches, Chief Information Officer at Aviva Canada. "Leveraging the power of partnerships and collaboration is in our DNA at Aviva Canada.  We've added tech disruptors to our list of valued partners and together we're going to change the industry. This is just the beginning as there will be more InsurTech events like these to come."
Keynote speaker Ted Graham, Head of Open Innovation at General Motors discussed emerging trends in the tech mobility space. Brian Kobus of OMERS Ventures presented an exploration of what's happening with autonomous vehicles in Canada. The evening ended on a high note with a showcase featuring a number of up-and-coming tech startups in the mobility space including Litmus, Netlift and RepairMatch.  
"We're extremely excited to partner with Aviva Canada on the event series and hackathon initiative," says Haroon F. Mirza, Managing Director and Entrepreneur in Residence at OneEleven. "The success of yesterday's kick-off event shows the value of collaboration between innovation hubs and innovative corporate partners. We're thrilled to play our part to put InsurTech on the map in Canada."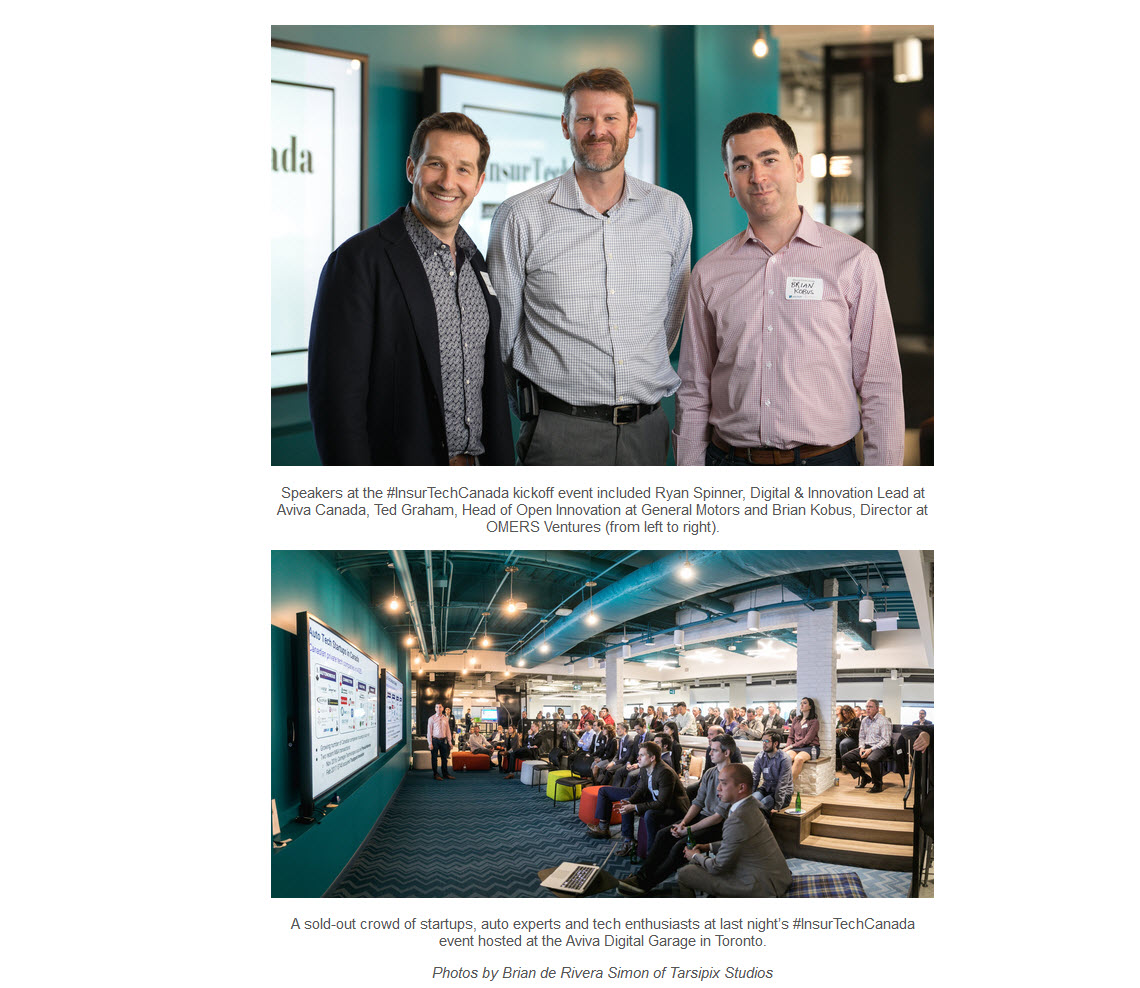 The mission of Aviva Innovation is to connect with extraordinary talent, uncover breakthrough innovations and to give these ideas the opportunity and resources to thrive. The InsurTech community is one that is growing rapidly in Canada, and Aviva Canada and their partners are excited to play a part in supporting its growth.
OneEleven and Aviva Canada are working together to provide startups with the right resources to support and develop their business ideas in the insurance space. In addition to launching the InsurTech Canada Event series, they will host a joint Hackathon in late 2017.
For more information about upcoming events, visit Aviva Canada's Digital Garage or OneEleven.
About Aviva Canada
Aviva Canada Inc. is one of the leading property and casualty insurance groups in the country, providing home, automobile, leisure, lifestyle and business insurance to more than 3 million customers. A wholly-owned subsidiary of UK-based Aviva plc, the company has more than 4,000 employees focused on creating a bright and sustainable future for their customers and communities.
Aviva Canada invests in positive change through the Aviva Community Fund, Canada's longest running online community funding competition. Since its inception in 2009, the Aviva Community Fund has awarded $7.5 million to over 250 charities and community groups nationwide. Aviva Canada, bringing over 300 years of good thinking and insurance solutions to Canadians from coast to coast.
For more information visit avivacanada.com, the company's blog or Twitter, Facebook and LinkedIn pages.
About OneEleven
OneEleven is a post-seed tech accelerator focused on helping Canada's most promising, high-growth startups commercialize their technologies and scale their operations. Their mission is to enable Canada's best startups to relentlessly focus on value creation and business growth.  OneEleven's vision is to help the next generation of Canadian tech companies compete and win on the global stage. For more information about OneEleven, please visit oneeleven.com
-30-
Media Contacts:
Priscilla Wong
PR Specialist, Aviva Canada
Desk: (416) 288-6780, Cell: (647) 208-7523
E-mail: Priscilla.y.wong@aviva.com
Nora Bieberstein
Community Manager, OneEleven
Phone: 416-848-7560 
E-mail: info@oneeleven.com