Aviva Canada's volunteers recognized at UN forum for reducing disaster risk
March 14, 2017 (Montreal, QC) – On March 7 to 9 2017, the United Nations Office for Disaster Risk Reduction (UNISDR) and Government of Canada hosted the Fifth Regional Platform for Disaster Risk Reduction in the Americas. Aviva Canada is proud to have received recognition at the forum for their corporate volunteerism that contributes to disaster risk reduction. The three‐day forum brought together governments, businesses,community organizations and academic institutions to advance a major global agreement that aims to reduce disaster risk.
Debora Hendrickson, Senior Vice President of Customer & Marketing at Aviva Canada spoke on a panel hosted by the International Federation of the Red Cross and the White Helmets on the importance of corporate volunteers and Aviva Canada's role in disaster risk reduction.
"As an insurer, we understand what it takes to help those affected by disasters. We're very proud to be partnering with the Canadian Red Cross to deploy fast responders, raise awareness, and provide training on prevention so the impact of disasters can be reduced and more lives can be saved," said Hendrickson. "We're thrilled to have over 315 trained volunteers in our Ready When the Time Comes (RWTC) program, to help the Red Cross mobilize quickly when disasters strike," she added.
Jocelyne Milord, an employee at Aviva Canada also shared her experience on the panel as a RWTC volunteer who helped evacuees during the 2016 Alberta Fires disaster response. "People really needed to talk to someone and be comforted after such a traumatic experience, and I felt that my small contribution helped," said Milord.
Robust volunteer program helps meet urgent needs of affected communities in Canada and globally
In May and June 2016, Aviva Canada's Ready When the Time Comes volunteers assisted the Red Cross' Alberta Fires disaster response efforts. Within 24 hours, Aviva Canada volunteers were on the ground assisting evacuees and 54 volunteers were deployed during the response.
 
Aviva Canada had the largest corporate volunteer response in the Red Cross Alberta Fires relief efforts and generously contributed to the distribution of $50 million in immediate financial assistance – the largest and fastest transfer of emergency funds in Red Cross history.
 
October 13, 2016 was International Day for Disaster Reduction and Aviva Canada volunteers took part in a 24‐hour Global Mapathon to help create digital maps of the world's 'forgotten' places. The maps will aid international and local humanitarian agencies respond more efficiently to crises affecting those areas.
 
Over 1,000 Aviva volunteers worldwide in 13 countries across Europe, Asia and Canada participated in the Global Mapathon supporting Hurricane Matthew disaster relief efforts in Haiti, helping Red Cross teams get to families who needed help.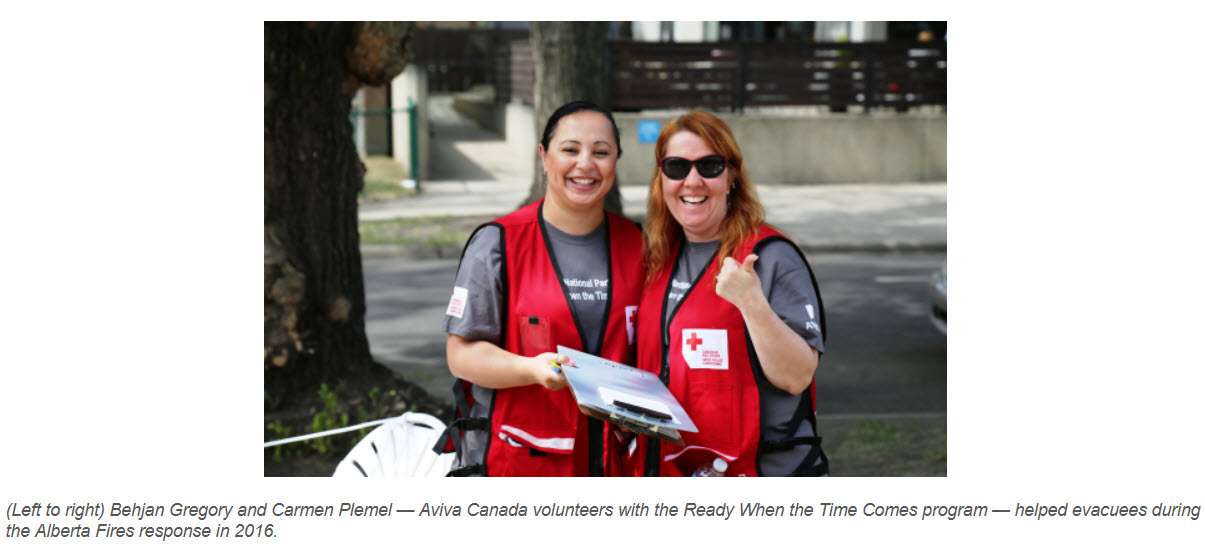 About Aviva Canada
Aviva Canada is one of the leading property and casualty insurance groups in the country, providing home, automobile, leisure/lifestyle and business insurance to more than three million customers. A wholly-owned subsidiary of UK-based Aviva plc, the company has more than 4,000 employees focused on creating a bright and sustainable future for our customers and our communities.
Aviva Canada invests in positive change through the Aviva Community Fund, Canada's longest running online community funding competition, which has awarded $7.5 million to over 250 charities and community groups nationwide since its inception in 2009. Aviva Canada was the first insurer to become a national corporate partner of the Canadian Red Cross' Ready When the Time Comes program, to be there for Canadians when disaster strikes. With a strong commitment to prevention and protection, the company has partnered with the Institute for Catastrophic Loss Reduction, and launched the Plan & Protect app, to help Canadians prepare for unforeseen weather events and natural disasters. In 2016, the company was announced as a winner of The Burns & Wilcox Award for Philanthropy & Community Service. At Aviva Canada, protecting the people and things you love, supporting the causes you care about most and strengthening your local community is just good thinking.
‐30‐
Media Contact:
Glenn Cooper
Senior Manager, Public Relations, Aviva Canada
Mobile: (416) 523‐3225
E‐mail: glenn.cooper@aviva.com