Meet our 2023 Communities
The following communities were selected to receive funding through our Charged for Change program in 2023:
Town of Pelham
Township of Selwyn
The County of Prince Edward
Town of Thessalon
Municipality of East Ferris
Township of Manitouwadge
Township of Essa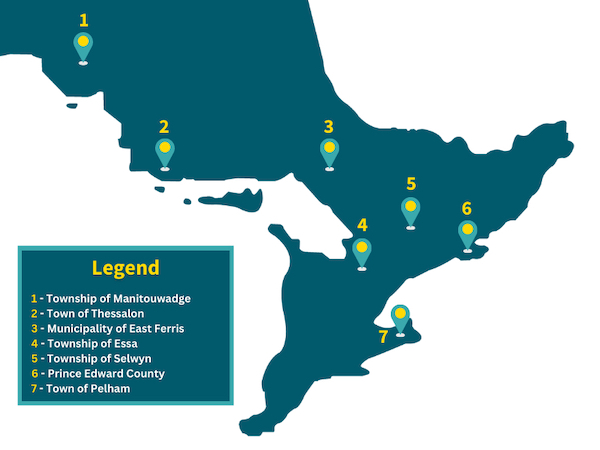 .

We look forward to seeing these projects deliver greater access to EV charging infrastructure for local residents and businesses. See below for project details.


Municipality

Population
(StatsCan, 2021)

# of public charging heads before

# of public charging heads after funding from Charged for Change

Amounted Granted

# of Sites

Project Status as of September 13

Site

Address

Municipality of East Ferris

4,946

0

2

$ 29,120

1

Installation complete, ready for use

East Ferris Municipal Office

25 Taillefer Road

Corbeil, ON

Township of Manitouwadge

1,974

0

6

$ 125,000

2

Scheduled to be completed by March 2024

Manitouwadge Recreation Centre

23 Manitou Road

Manitouwadge, ON  

 

 

 

 

 

 

 

Township of Manitouwadge Municipal Office

1 Mississauga Drive

Manitouwadge ON 

Township of Essa

22,970

0

4

$ 78,393

2

Installation complete, ready for use

Angus Recreation Centre/Arena

8529 County Road 10

Angus, ON

 

 

 

 

 

 

 

Thornton Community Centre/Arena

246 Barrie Street

Thornton, ON

Township of Selwyn

18,653

2

8

$ 127,327

4

Installation complete, ready for use

Selwyn Township Municipal Office

1310 Centre Line

Selwyn, ON

 

 

 

 

 

 

 

Ennismore Community Centre

553 Ennis Road

Ennismore, ON

 

 

 

 

 

 

 

Bridgenorth Library and Community Centre

836 Charles Street

Bridgenorth, ON

 

 

 

 

 

 

 

The River Den

13 Water Street North

Lakefield, ON

Town of Thessalon

1,260

0

8

$ 203,324

3

Scheduled to be completed by March 2024

Thessalon Municipal Office

187 Main Street

Thessalon, ON

 

 

 

 

 

 

 

Thessalon Marina

56 Algoma Street

Thessalon, ON

 

 

 

 

 

 

 

Thessalon Medical Centre and Fitness Centre

333 River Street

Thessalon, ON

Town of Pelham

18,192

0

6

$ 72,694

1

Installation complete, activation pending

Town of Pelham Municipal Parking Lot

20 Pelham Town Square

Fonthill, ON

The County of Prince Edward

25,704

1

6

$ 99,675

3

Scheduled to be completed by mid-March 2024

Wellington and District Community Centre

111 Belleville Street

Prince Edward, ON

 

 

 

 

 

 

 

Prince Edward Community Centre

375 Picton Main Street

Prince Edward, ON

 

 

 

 

 

 

 

Bloomfield Parking Lot

251 Bloomfield Main Street

Bloomfield, ON