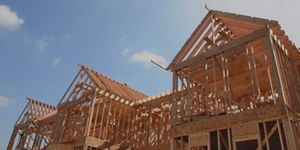 Residential Surety
Build with confidence
Rated AA- by Standard and Poor's and Fitch Ratings
As a residential builder or developer, you take your commitment to your purchasers' satisfaction seriously. At Aviva, we stand beside you in your commitment to a happy home-buying experience for your customers and to delivering a home that represents your dedication to quality. We are here to support your new home and land development projects with a full suite of Residential Real Estate Surety and Developer solutions from the development experts at Aviva. 
Specialized Surety expertise
Aviva offers a full suite of residential surety bonds and products for home and land development projects.

New home warranty

Aviva provides home warranty in Western Canada through its partnership with National Home Warranty.

Deposit insurance

Developers know condominium projects are an expensive undertaking. And if you're building in Ontario*, British Columbia or Alberta, you also know you must hold your purchasers' deposits in trust unless you have deposit protection insurance in place.

With Deposit Protection insurance from Aviva, you can access these deposits and use them to your advantage as a source of project financing – reducing your dependency on more expensive financing like bank loans, subordinated loans or equity – which can improve your bottom line.

*In Ontario, Deposit insurance is for deposits in excess of the Tarion Warranty protection of $20,000 for condominium homes and $40,000 for freehold homes. We also offer Deposit insurance on projects that fall outside of Tarion's Warranty coverage, such as condominium conversions and commercial condominiums.


Tarion Bonds

If you're building condominiums or new homes in Ontario, you're probably familiar with the Ontario New Home Warranties Plan Act, administered by Tarion*. This Act outlines the warranty protection that you as the builder must provide to your customers. To secure your obligation to deliver that coverage, Tarion requires security from you.

Providing security to Tarion to back your deposit and warranty obligations can tie up valuable credit. Aviva can help keep more of your credit free, with bonds that satisfy Tarion's security requirements. Our team will create a Tarion Bond and excess deposit insurance solution tailored to the needs of your project.

*Tarion Bonds are only available in Ontario. 

Building Envelope Renovation Warranty

As a renovation contractor or building envelope consultant, you know a new building envelope represents a significant investment to condominium owners.

 

Give your customers confidence knowing their investment is protected for the long term with Aviva's Building Envelope Renovation Warranty. Our Building Envelope Warranty includes two-year material and labour protection and five years of water penetration protection for your building renovation project. We also meet the legislative requirements mandated in British Columbia.

 

Your customers will appreciate the protection and peace of mind provided by Aviva's Building Envelope Warranty insurance.


H.O.M.E. Bonds

If you're a multi-family new home warranty customer in western Canada and you're in the pre-sale phase of your condo development, we can help you reach your pre-sale goals sooner with our Home Ownership Made Easy (H.O.M.E.) program.

Our Home Bond helps your customer* reduce their need to borrow money or cash investments to pay the entire deposit up front. Our bond stands in place of a portion of their deposit until closing.

*Purchasers must individually qualify.

Surety solutions you need
With Aviva's Residential Surety solutions, you'll get:

Residential and Developer Surety specialists on your team
Benefit from the experience and advice of our surety and construction specialists.

A customized approach
We understand your business goals and the unique ways you use your resources, skills and expertise.

A full suite of Residential and Developer Surety Bonds
Our experienced team of underwriters and risk managers specialize in developing surety solutions for organizations like yours to offer you protection from start to finish.



Insurance brokers, the right choice for you
Get expert advice for your business insurance needs.