Rated AA- by Standard and Poor's and Fitch Ratings
As one of Canada's largest Commercial Auto Insurance providers, we understand how your vehicles drive your business. We offer coverage solutions to meet the needs of our customers across all Canadian jurisdictions, as well as insurance options available for Canadian customers that operate vehicles in both the U.S. and across Canada.
Our Canada-wide team of highly skilled Underwriters, Specialists, Risk Management Consultants, and Adjusters understand the needs of your Commercial Auto business and are committed to providing a competitive and comprehensive insurance policy solution. 

Choose the right Commercial Auto Insurance product
Commercial auto insurance solutions crafted to meet the needs of your business.
Individually Rated Commercial Auto (IRCA) Insurance
For businesses with at least 1 commercial rated vehicle.
Policies can include personal use vehicles and some recreational vehicles, such as ATVs, or a mix. All vehicles are rated individually, similar to a personal auto policy.
Fleet Insurance
For businesses with at least 5 vehicles that meet the provincial or territorial definition of Fleet.
Fleet Insurance may provide more competitive pricing as the risk is assessed wholistically rather than on an individual basis - making this a financially beneficial solution.
Garage Insurance
The Garage policy provides insurance during the time that a customer's vehicle is in your care, custody, and control.*
Aviva must write the supporting Commercial General Liability operations in order for Garage Insurance to be quoted/bound. Business-owned vehicles can be included in the Garage Insurance policy or on a separate Owner's Insurance policy.
Enjoy mandatory features and choose from additional coverages
Mandatory coverages include: **
Third Party Liability coverage will protect you when you are at fault for an accident.
Accident Benefits provides coverage for medical bills and rehabilitation regardless of whether you are at fault or not.
Direct Compensation-Property Damage means your policy will protect you if you are a) partially at fault in an accident and b) when you are not fault in an accident.
Additional coverages may include: **
Increased Third Party Liability limits are available to select the right level of coverage for you.
Optional Accident Benefits can be selected for additional protection.
Collision or Upset provides coverage for damage to your vehicle caused from impact with another vehicle or object.***
Comprehensive provides coverage for damage to your vehicle from losses other than collision or upset.***
All Perils combines collision and comprehensive coverages.***
Specified Perils is specific coverage to your vehicles from damages with some perils not included.***
** Names of mandatory and additional coverages listed may vary across provinces and territories. Availability of additional coverages is dependent on the province or territory in which the vehicle is insured and registered.
*** Subject to a deductible
The Aviva advantage
With Aviva Commercial Auto Insurance, you'll get:
Multi-vehicle discount
Save when you insure more than one vehicle with us.

Conviction-free discount
Save more when your drivers are conviction-free. 


Commercial driving record protector†
Protection against increased premiums if there's an accident – even if you're at-fault.
Do business south of the border knowing you're protected
From standard policies to highly customized solutions, Aviva Cross Border Solutions offers a wide range of options for a variety of insurance needs.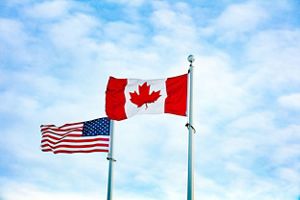 Frequently asked questions
What is Commercial Auto Insurance?

Commercial Auto Insurance provides coverage for vehicles used in connection with your business. 

If you have 1 vehicle or a fleet of many vehicles that are used to transport tools, equipment or goods, a Commercial Auto Insurance policy is required.

When do I need Commercial Auto Insurance?

Automobile Insurance is mandatory in Canada, but if you're using your vehicles in connection with your business then a Commercial Auto Insurance policy is required. A Commercial Auto Insurance policy ensures that you have the right protection and coverage to adequately cover you, your employees, and your commercially registered and plated vehicles.

Does a Commercial Auto Insurance policy cover vehicles used for personal use?

A Commercial Auto policy is intended for business/commercial use vehicles, however personal use is also permitted. 

Speak with your broker to ensure you have appropriate insurance coverage based on the various uses of your vehicles.

What is a Garage Automobile Insurance policy?

A Garage Auto Policy provides protection for businesses that sell, repair, maintain, store, service and/or park customers automobiles as well as owned automobiles (unless they are leased). 

The insurance policy includes coverage for garage employees and protects the customers automobiles while in the care, custody, and control of the garage business owner/employees.
Insurance brokers, the right choice for you
Get expert advice for your business insurance needs. 
The commercial auto policy, excluding Aviva Cross Border Solutions, is underwritten by Aviva Insurance Company of Canada. The information on this website is provided to you for information purposes only. Terms and conditions apply, for exact terms, definitions, limitations and extensions, please speak with your insurance broker for more information. 
The Aviva Cross Border Solutions content on this webpage is for information only and is intended only for Canadian businesses. Aviva Cross Border Solutions is only available with an eligible Aviva property & casualty and/or commercial automobile policy for Canadian-based business. The insurance products described in this webpage are subject to terms, conditions, restrictions and exclusions, which are outlined in our final policy wording. Please speak with your Aviva insurance broker if you would like to learn more.  Insurance products are underwritten by Aviva Insurance Company of Canada, a subsidiary of Aviva Canada Inc. Aviva and the Aviva logo are trademarks used under license by the licensor.  The Hartford® is The Hartford Financial Services Group, Inc. and its property and casualty subsidiaries, including Hartford Fire Insurance Company. Its headquarters are in Hartford, CT. Certain coverages vary by state and may not be available to all businesses. All Hartford coverages and services described on this page may be offered by one or more of the property and casualty insurance company subsidiaries of The Hartford Financial Services Group, Inc. In TX, this insurance is written by Hartford Fire Insurance Company. In Arizona, New Hampshire, Washington and California by Hartford Fire Insurance Company and its property and casualty insurance company affiliates, One Hartford Plaza, Hartford, CT 06155. All Hartford insurance products and services are sold directly by The Hartford or through licensed producers or independent agents of The Hartford. This is not a guarantee of coverage. This document contains only a general description of coverages that may be provided and does not include all of the terms, conditions, or exclusions that may apply. Please refer to the actual coverage forms for complete details of terms, conditions, and exclusions. In the event of any conflict, the terms of an issued policy prevail. Any U.S. insurance policies will be issued by a licensed or authorized insurer and in accordance with the applicable laws and regulations in the relevant U.S. state(s). The information provided herein regarding our policy solutions is intended to be for informational purposes only and is subject in all respects to the terms and conditions of the actual policies. The policy solutions discussed herein may vary by U.S. state and may not be available to all businesses or in all U.S. states. This brochure is not intended in any way to be an offer to sell, solicitation, or negotiation of any insurance policy by us.
*The Commercial General Liability must also be written with Aviva Insurance Company of Canada. 
***Subject to a deductible.
†Only available in Ontario.