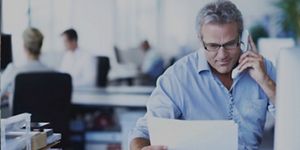 Manage your policy
Need support? Your broker is ready to help
Give your broker a call
Insurance is complicated. To discuss your business insurance needs and manage your policy, you may prefer to contact your broker. With an insurance broker, you have that flexibility - making it easier for you to focus on your business.

What a broker can help you with
Switch your payment method
Change your billing information
Change your mailing address
Add or change your phone number
Change your email address
Add or remove vehicles or drivers
Update your class of licence for your vehicle
Modify your coverage
Add or remove business location
Need business insurance?
Aviva's business insurance is available exclusively through insurance brokers.