Rated AA- by Standard and Poor's and A by A.M. Best
You've worked hard to build your business. Let us help you protect it.
Aviva Onpoint™ insurance puts the needs of your business first – offering you protection that's right for you, so you can focus on running your business. 

Who's Aviva Onpoint™ insurance for?
Aviva Onpoint™ insurance is ideal for businesses with one location and up to $5 million in revenue with Canadian operations and sales. This is available for these industries. Be sure to look out for future offerings.

What's covered
Aviva Onpoint™ insurance* for small business offers a wide range of coverages to protect your business from losses and damage that result from unexpected events. 

All policies include
Property
Coverage for your buildings (including upgrades), stock and equipment located on your premises as well as utility services, signs, exterior building glass.  

Additional extensions of coverage include:
environmental upgrades
landscaping and growing plants shrubs or flowers

business contents away from premises or while at employee residences  
valuable papers

accounts receivable 
Note: This coverage is not mandatory for contractors

Liability
All businesses should protect themselves from the unexpected, including:
bodily or mental injury
property damage liability

personal and advertising injury liability

tenants' property damage liability

voluntary medical payments

non-owned auto

legal liability for damage to rented autos
Additional coverages to consider**
Business income
You shouldn't have to worry about missing out on income when you've experienced a loss, damage or business interruption. Aviva Onpoint™ coverage features no dollar limit and no waiting period (unless specified in the policy). Protection extends to lost income from circumstances such as:

negative publicity

restricted access to a business 

a covered loss to a supplier's location or key location
Coverage also extends to accountants' fees, fines and penalties, newly acquired locations, mortgage rate guarantee and payroll.
Equipment breakdown
Important systems such as computers, photocopiers, production machinery, heating and air conditioning, point-of-sale (POS) systems and refrigeration equipment are protected in case of:
electrical arcing
mechanical breakdown
pressure explosions
centrifugal force
Crime
A broad range of coverages, including:
money, securities and other property
counterfeit currency and money orders
forgery, alteration, credit cards and automated teller cards
electronic fraud and funds-transfer fraud
professional fees 
incoming cheque forgery
Inland marine
Coverage for contractor's equipment and tools that are offsite.
Accident
Helps pay for the medical and out-of-pocket costs due to an accidental injury or a covered illness.
* The Aviva Onpoint™ policy is underwritten by Aviva Insurance Company of Canada.  The information on this website is provided to you for information purposes only. Terms and conditions apply, for exact terms, definitions, limitations and extensions, please speak with your insurance broker for more information. Aviva and the Aviva logo are trademarks used under license by the licensor.  
**Additional coverages are available for certain operations. Speak to your broker for more information. 
Get just what your business needs
With Aviva Onpoint™ insurance, you'll get:
Broad coverage
Enjoy a broad range of coverages created to support your success.

Tailored protection
Get industry-specific protection that fits your type of business.

Flexible options
Select coverage amounts and deductibles that are right for you.

Single policy convenience
With one easy-to-understand policy, you'll have what you need to keep your business moving forward.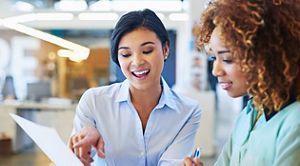 Frequently asked questions
We answer your questions on Aviva Onpoint™ insurance for small business
What is Aviva Onpoint™?
The Aviva Onpoint™ insurance solution offers streamlined insurance for businesses with one location and up to $5 million in revenue with Canadian operations and sales. This is available for Business & Professionals, Contractors and Retailers. Be sure to look out for future offerings. 

Talk to your broker to learn more.
How can I purchase an Aviva Onpoint™ insurance policy?
Talk to your broker and ask about the Aviva Onpoint™ policy. 
Aviva Business Blog
Running a successful business can be challenging. Explore our selection of resources to stay informed about industry trends and prevention solutions.
Access blog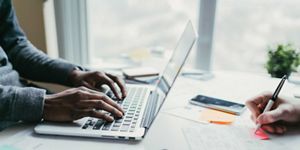 Insurance brokers, the right choice for you
Get expert advice for your business insurance needs.