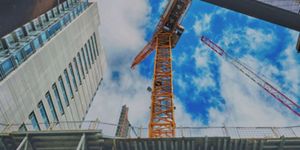 Spotlight on Construction
Ensuring your clients' success from the ground up
Rated AA- by Standard and Poor's and A by A.M. Best
Canada's construction industry employs over 1.4 million people and is a major contributor to the economy. Faced with an increased need for infrastructure development and with projects becoming more complex, companies are focused on adopting new technologies. The risks facing the industry are quickly changing and the need for a flexible insurance solution has never been greater.
Aviva Enterprise insurance offers your clients comprehensive coverage customized to their unique needs so they can build with confidence knowing they're protected. 

Builder's Risk
Every construction project is unique, which is why Aviva Enterprise insurance offers a streamlined insurance solution that's flexible for projects of all sizes.  Whether they are building commercial, industrial, civil or residential projects, the Aviva Enterprise policy combines Builder's Risk and Wrap Up Liability coverages into one convenient policy to offer full protection of your clients'  physical assets, business income and liability exposures. Coverage can be purchased individually as a standalone product or together in one Property and Casualty policy. 
Customized coverage is available for projects involving new construction, reconstruction, installation and renovation.

Coverage highlights
Property

Coverage for all property at the project site, including:

all materials required 
landscaping, growing plants or trees
temporary buildings, scaffolding, falsework and hoardings
temporary infrastructure during construction

project materials while in transit to the site      
project materials while in storage at another location, awaiting delivery to the project site
all contractors and subcontractors are additional insureds            


Equipment breakdown

Covers testing and commissioning of normal building systems and equipment intended to service the building, such as:

boilers, chillers, pumps, electrical panels, domestic plumbing, sprinkler systems, air conditioning and HVAC systems are covered for mechanical and electrical breakdown

Wrap up liability

Coverage meets the requirements of CCDC and provides comprehensive protection for:

project owners, project managers, architectural and engineering consultants and all contractors and subcontractors working on the project

Coverage extends during correction of deficiencies for 365 days and covers third party liability arising from:

bodily/mental injury and property damage
personal and advertising injury
tenant's property damage 
and more

Add even more protection

forest fire-fighting expenses
coverage for non-owned automobiles
residential builder's risk coverage

Project types

civil works - heavy equipment, tunneling or performing bridge and roadwork
commercial, industrial and institutional - office buildings, condominiums, schools or hospitals
residential construction – for builders, project owners or developers
Contractors
With protection for your client's physical assets, business income, liability exposures and employees , the Aviva Enterprise policy for contractors is designed to meet the specific needs within many of the industry's trades. Including building contractors, these trades include excavating contractors, road builders, landscapers, and electricians.
Coverage highlights
Contractor's equipment

including portable equipment and hand and power tools

employees' tools and clothing

clean up expenses for land and water pollution

contractors' equipment breakdown

Liability

Coverage to protect your client in case of lawsuits for bodily or mental injury and property damage, personal and advertising injury liability, tenant's property damage liability and voluntary medical payments. Other coverages* include: 


employers' liability for Canadian resident employees

employee benefits errors and omissions (E&O) liability

product and work removal expense (rip and tear)

coverage for damage to your work in progress

contractors' E&O liability

contractors' pollutionE&O liability

wrap up extension for projects requiring coverage for project owners, project managers, architectural and engineering consultants and all contractors and subcontractors working on a project**

pesticide applicator's pollution liability

umbrella coverage provides an extra layer of liability coverage in the event of a catastrophic loss

Property

If your client owns or rents space in a building, office or workshop, coverage is available for: 

their buildings including exterior glass and signs, towers, renewable energy equipment, sewers and
utilities above and below ground on the premises and more
their office contents and equipment, electronic equipment (including laptops) on and off premises

accounts receivable 
extra and expediting expenses  
installation floater
privacy breach expenses 
and more

 

Equipment breakdown

On your client's premises, protection for accidents to compressors, heating systems, electrical panels, hoists, mechanical or electrical machines or apparatus, including production machinery. Coverage included:

ammonia contamination
fluid escape
hazardous substances
portable objects*
loss of income resulting from an equipment breakdown 
and more

Crime

A broad range of coverages, including:

employee dishonesty 
money, securities and other property
counterfeit currency and money orders
forgery, alteration, credit card and automated teller card
electronic fraud and funds-transfer fraud
professional fees 
incoming cheque forgery  

Add even more protection

builder's risk - blanket
builder's risk - business income extension

*coverage limited to certain operations

**a separate wrap up policy is available for large, single location projects

***commercial auto is offered on a separate policy
Focus on construction
Looking for resources related to topics of interest within the Canadian construction industry? Our product, risk management and claims experts have come together to offer their insights and knowledge on current trends, risks and prevention tips that are easy to share with your clients, prospects and team. Below is a selection of infographics and articles highlighting what's currently influencing the industry.
Aviva Business Blog
Running a successful business can be challenging. Your clients can explore our selection of resources to stay informed about industry trends and prevention solutions.
Access blog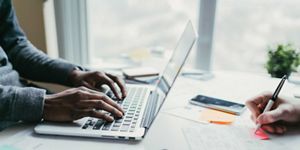 Surety solutions for your client's business
Financial security guaranteed to get the job done

Contract Surety
Whether your client's project includes bridge building, sewer, tunneling or hospitals, they can guarantee their commitments with a contract surety bond.

Residential Surety
Aviva has a full suite of surety, home warranty and insurance solutions for your clients' project and business.

Aviva Enterprise products are underwritten by Aviva Insurance Company of Canada.