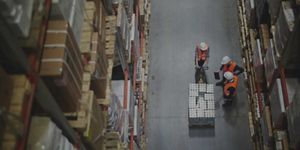 Spotlight on Wholesaling
Ensuring your client's business delivers the goods
Rated AA- by Standard and Poor's and A by A.M. Best
With globalization, offshore sourcing and the number of big-box stores on the rise, Canadian wholesalers are in the midst of an increasingly dynamic industry. As intermediaries moving products between producer and consumer/retailers, wholesalers are not only one of the country's core economic contributors, they are also key to propelling the global economy forward.
Many wholesalers purchase offshore and/or locally in order to keep up with demands and keeping the supply chain moving can pose many risks. There's no better time to consider flexible insurance coverage to help protect your client's business. 

Wholesaling
Aviva Enterprise Wholesalers insurance offers your client protection for the storage and distribution of various goods, as well as the logistical steps along the way. Whether your client wholesales personal and household products, food and beverage items, or even mechanical components, the Aviva Enterprise policy is customizable to meet your client's unique risk exposures.

Coverage highlights
Property

Coverage* for buildings (including upgrades), exterior glass and signs, towers, renewable energy equipment, sewers and utilities above and below ground on the premises** and more.

business contents (including while away from premises) such as stock, equipment, electronic equipment including laptops on and off premises
customer's goods
brands and labels
infestation 
stock contamination
stock spoilage
privacy breach expenses
warehouseman's legal liability coverage, to cover the property of others held by the client
transportation, including reefer breakdown 
contractors' equipment
coverage 

for loss or damage to your stock while being worked upon or serviced

 

Business income

Protection for your client's business income after a loss at their premises until their business returns to normal, including:

no dollar limit on loss of business income, extra expenses, or additional time due to bylaw compliance
payroll expense
contingent business interruption, in the event that your client's supplier suffers a loss, resulting in their inability to provide services
utilities service interruption
product impairment in case your client's product is recalled
restricted access
negative publicity  
and more

Equipment breakdown

Protection for accidents to compressors, heating systems, electrical panels, mechanical or electrical machines or apparatus including production machinery.


Coverage* includes:

ammonia contamination
brands andlabels
errors and omissions
fluid escape
hazardous substances
computer equipment, data and media on and off premises, and at employee residence
environmental upgrade
expediting and extra expenses to keep your client's business up and running
stock spoilage
loss of income including fines and penalties, internet service, utility service interruptions and restricted access

Liability

Coverage to protect your client in case of lawsuits for bodily or mental injury and property damage, personal and advertising injury liability,  tenant's property damage liability and voluntary medical payments.


Other features*: 

coverage territory is worldwide, provided actions are brought in Canada or the U.S.
employers' liability for Canadian resident employees
fungi and spores 
pollution caused by products
employee benefits errors and omissions (E&O) liability
product recall expenses
product rectification expenses (failure to manufacture to specifications)  
non-owned automobile third party liability 

Crime

A broad range of coverages, including:

employee dishonesty

money, securities and other property

counterfeit currency and money orders

forgery, alteration, credit card and automated teller card

electronic fraud and funds-transfer fraud

incoming cheque forgery 

Add even more protection*

rigging and moving to cover accidental dropping or slipping of property

privacy breach errors and omissions liability

pollution 120-hr extension

commercial auto coverage***

umbrella coverage provides an extra layer of liability coverage in the event of a catastrophic loss

*availability limited to certain operations

**within your client's property lines, areas under adjoining sidewalks and driveways, and in or on vehicles within 100 m

***commercial auto is offered on a separate policy

Focus on wholesaling
Looking for resources related to topics of interest within the Canadian wholesaling industry? Our product, risk management and claims experts have come together to offer their insights and knowledge on current trends, risks and prevention solutions that are easy to share with your clients, prospects and team. Below is a selection of infographics and articles highlighting what's currently influencing the industry.

Aviva Business Blog
Running a successful business can be challenging. Your clients can explore our selection of resources to stay informed about industry trends and prevention solutions.
Access blog